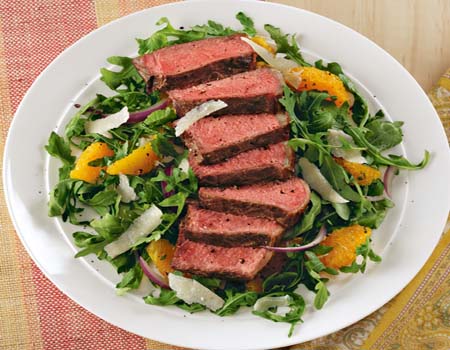 I'm a summer gal. No ifs, ands or buts about it.
I like the sun on my face and being outside. Eating.
But winter weather isn't very conducive to patio meals. And since Punxsutawney Phil said we've got 6 more weeks of it, I've got to get creative.
I've just GOT to beat these winter blues.
So… I like to cook meals in the winter that remind me of summer. Hey, there's no rule that says I can't have a light strip steak salad with strawberries in the winter.
Or, perhaps, just grill up some ribeyes on the old barbecue and serve them with drinks with little umbrellas in them.
Steaks make me happy any time of year, but they REALLY bring to mind weekends spent outdoors, enjoying the weather and slowly grilling.
So I'm going to recall those glorious days this weekend with a grilled steak on my plate and memories of the sun in my head.
I'll just do it indoors.
How about you? What are your favorite meal ideas for beating the winter blues?