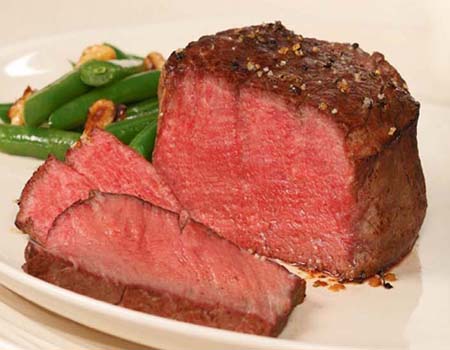 Ever wonder how to season a steak?
Honestly, whatever flavors YOU like are the ones you should use.
But sometimes we need some guidance. That's when I turn to recipes. When they've been created by a chef I know they're gonna be good.
I'm getting in the spirit of National Filet Mignon Day (all month long) and making sure we eat our fair share of filets.
Here is a filet rub recipe I like to use:
Spice Rubbed Filet Mignon
Ingredients:
4 (5 oz.) Filet Mignons
For the Spice
1 tbsp. sweet paprika
1/2 tsp. ground cumin
1 tsp. chili powder
1/2 tsp. chipotle chile powder
1 tsp. salt
1 tsp. pepper
1/2 tsp. cocoa powder
For the Sauce
1/2 cup brown sugar
1 tbsp. vinegar
1 tbsp. yellow mustard
1 cup tomato sauce
Directions: Combine all of the spice ingredients in a mortar and pestle or in a spice grinder and mix until evenly combined. Rub the mixture evenly into all sides of the filet and let rest for at least a half of an hour. In a heavy bottomed pan over high heat, sear the filets until done, about four minutes per side for medium. Add the brown sugar, vinegar, mustard and tomato sauce and reduce until thickened.
Servings: 4
It's spicy and delicious and especially created for a filet mignon.
Delicious! Wanna try it?