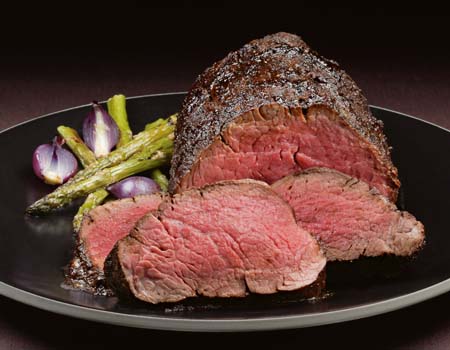 Summertime is here!
I'm out there every weekend cooking up a storm in my happy place. I wasn't meant to be stuck inside and freezing.
I need to be free – and warm!
Speaking of freedom… it's almost time to celebrate this country's Independence Day. And as with all celebrations in my house it MUST involve food.  Grilling steak HAS to happen at some point in the weekend. But I might mix it up a little and go for a Chateaubriand on the grill for the 4th.
This year I'm going to prepare some Deviled Eggs and Creamy Coleslaw as sides and then serve this scrumptious recipe – a slight departure from my beloved steaks.
What are you serving for July 4th?
Marinated Beef Tenderloin (on the grill)
Ingredients:
1 (32 oz.) Chateaubriand
1 bay leaf
sea salt, to taste
2 onions, sliced
1/2 cup vegetable oil
1 clove garlic
freshly ground pepper, to taste
Directions: Rub the Chateaubriand on both sides with salt and pepper. Place meat in shallow pan; add bay leaf, onions, and garlic. Drizzle with oil. Cover and marinate in refrigerator 2 to 3 hours, turning meat once or twice. Drain meat and discard marinade. Grill over medium-hot charcoal, turning to brown evenly. Continue cooking over indirect heat in covered grill, about 25 minutes, turning frequently, until meat is desired degree of doneness.