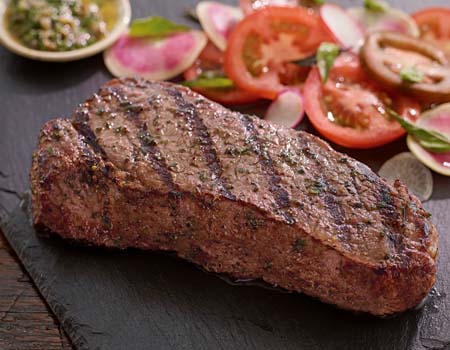 The number one rule of grilling a steak is don't overcook it. It's got to taste good or else what's the point?
But the number two rule?
Make it pretty.
Presentation is a very, very close second to taste. If it doesn't LOOK appetizing it simply won't taste good.
And as far as steaks are concerned, grill marks are of utmost importance. So we've got to spend some time making sure they're absolutely gorgeous.
Now, you could just go for the horizontal look (see above) and just give your steak a good diagonal placement across the grill, then flip and create the same effect on the other side.
That's beautiful, but many chefs prefer this method as described in this "Top 10 Steak Grilling Tips" list compiled by a true chef:
"Use the hot grill to create 'cross-hatch' grill marks. Set your steak down at a 45-degree angle from your grill lines. About a quarter of the way through cooking, give it a quarter turn. Half-way through cooking, flip it once. Give it a final quarter turn for the last bit of cooking. When finished you should have a steak that looks like it belongs on a commercial. This might not be the most important thing in your day, but if you're on a first date or trying to impress then try this!"
And I totally agree. If you're gonna do it, do it right! Don't haphazardly flip your steak twelve times. You'll have crazy lines that have NO uniformity. And what's the fun in that?
Have a blast perfecting your grill mark technique the next time you're at the grill and check out that Top 10 list here for other great steak grilling tips!
Photo courtesy of KansasCitySteaks.com.