Ohhhh! Steak infused with an Asian flair. My mouth is watering just thinking of it.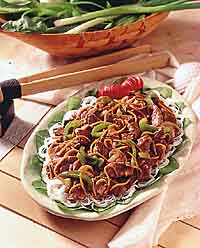 This recipe combines so many things I adore:  steak, garlic, noodles, soy. I might just start writing it love letters. . .
STEAK STIR FRY
Prep and Cook Time: 20 minutes
Yield: Makes 4 servings
Ingredients:
1 beef top sirloin steak (about 1-1/2 pounds)
1 package (8 ounces) dry rice stick noodles
¼ cup dry white wine
¼ cup soy sauce
1 tablespoon plus 1-1/2 teaspoons cornstarch
1 tablespoon sugar
2 teaspoons finely chopped fresh ginger
2 tablespoons vegetable oil
2 teaspoons minced garlic
2 cups sliced mushrooms
2 cups matchstick-size carrot sticks
1 cup green bell pepper strips
½ cup sliced green onions
4 cups fresh spinach leaves, washed and drained
Preparation:
1. Cut beef lengthwise in half, then crosswise into 1/4-inch strips. Set aside. Cook noodles according to package directions. Drain well. Set aside.
2. While noodles are cooking, combine wine, soy sauce, cornstarch, sugar and ginger in medium bowl; whisk to blend. Add beef strips; toss to coat well. Set aside.
3. Heat oil and garlic in large nonstick skillet or wok over high heat. Add mushrooms, carrots, bell peppers and green onions; stir-fry 4 minutes. Transfer vegetables to bowl. Cover; keep warm.
4. Add beef strips and marinade to wok; stir-fry 6 minutes. Return vegetables to skillet; stir until blended.
5. Line serving platter with spinach. Arrange noodles over spinach; top with beef mixture. Serve immediately.
Photo and recipe courtesy of howstuffworks.com.