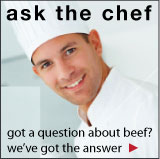 So, I'm not a chef. Far from it. I'm just a regular Joe (okay, Joanne) who loves beef and wants to keep it interesting in the kitchen.
I know there are things I should know. . . but don't.
For instance, I only recently learned that I should soak my wooden skewers before cooking with them on the grill. For kebobs and the like.
Huh. That seems so elementary. But somehow I had missed that lesson.
What do you have a question about when you're cooking a tantalizing steak or roast or beef tips?
Here's a nifty little place where you can ask a real-live chef your burning questions about beef. Get it? Burning?
I've done that a time or two.
Just click on the "Ask the Chef" box to the right on this web page and submit your question(s).
It's that simple!
Have fun perfecting your beef techniques with a chef's advice! And the best part? It's free!