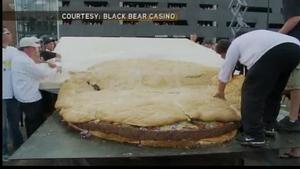 Check that out!
Recently, the Black Bear Casino Resort in Minnesota broke the world record for the largest hamburger. It is, in fact, a bacon cheeseburger weighing in at more than a ton.
A ton!
I don't know if I'm enticed or really grossed out.
Can I be both?
A CRANE had to flip that bad boy. Now that's a serious burger.
But the best part of all (besides the incredible teamwork and culinary skill that went into this feat)? After the world record was verified spectators got to eat that amazing creation.
At least none of it went to waste. THAT would have been a real tragedy.
Read more about this "behomoth burger" here.
Photo courtesy of Black Bear Casino Resort via WDIO.com.