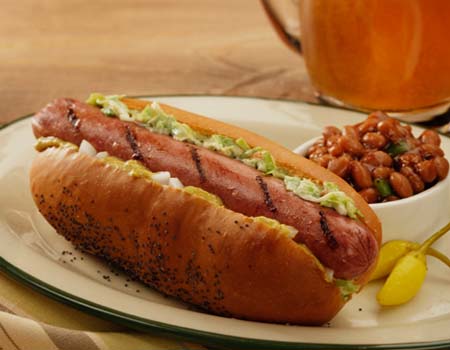 Summertime's baseball time! And one BIG reason we like to go to the ball park? Why, the food, of course!
Bring the excitement of the ball park home with a ball park inspired menu and it'll be a home run for sure!
Start with …
I mean, how can you not start there? Hot dogs, franks, frankfurters – whatever you want to call them – make sure to have lots of condiments – sauerkraut, relish, mustard, the works! Just make sure it's Kansas City beef for the best taste.
Then offer …
Hot dogs and burgers just go together. And at the ball park, you ALWAYS get a choice.
Then make sure to have …
Absolute perfection. And they go with everything. Try this recipe for killer rings!
And finish up with …
Cupcakes in the spirit of baseballs with licorice laces. Adorable and delicious. Get the recipe here.
Have fun creating your own customized menu and bring the ball park to your house!