So when we were in NYC we took a jaunt down to Little Italy. We bounced around on the subway, got off at our stop, walked through Chinatown, turned a corner and — behold!
The sights and smells of Little Italy are almost overwhelming. You KNOW you've arrived. There is no question.
Our only "problem" was which place to venture into for the evening.
We checked out all the menus and decided on a great little place named Paesano's. Perfect, right?
THIS is my husband's beef ravioli. Fresh, handmade ravioli with tender beef tucked inside, topped with homemade sauce. Unbelievable.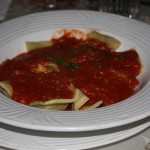 It was so good they had to roll us out of there onto the street.
So I've had this discussion with many people and we can't quite figure it out. What IS IT about the food in NYC that makes it so good?
Some people say it's the water. There's something in the water.
Others say it's the cheeses and fresh, fresh food New Yorkers have access to that in many parts of the country we don't have access to.
Some people just laugh like they know the answer but they're not telling.
Whatever it is, the things they can do with beef are out of this world.
Next time I'd like to rent a place with a kitchen and try out some of my standards there to see if there is any difference.
Would my meatloaf suddenly taste like Wolfgang Puck made it?
Alas, I am not Donald Trump and judging by what they charge for a shoebox-size hotel room, that idea may be nothing but a pipe dream.
But it's an interesting theory I just may put to the test.