This time of year brings out the 1950s homemaker in me. I didn't even know she existed but she's there — alive and kicking.
Cooking a beautiful meal for the holidays is a nice experience for everyone. And nothing expresses love like a great meal.
This is a wonderful, hearty holiday meal that your family and friends will rave about.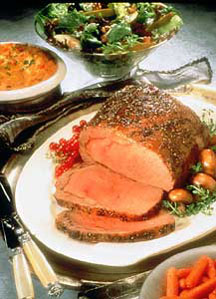 Beef Ribeye Roast With Red Wine Mushroom Sauce
Ingredients
1              3 lb. boneless beef rib eye roast
3/4  ts     Salt, divided
1/2  ts     Pepper, divided
1/2  c      Chopped onion
1/2  c      Dry red wine
1  tb        Cornstarch
1  cn       (13 3/4 oz) single strength beef broth
1  cn       (4 oz) mushroom
pieces and stems, drained
1  tb        Chopped parsley
Instructions
About 1 1/2 hours before serving: Sprinkle roast with 1/2 tsp. salt and 1/4 tsp. pepper. Place boneless beef rib eye roast, fat side up, on rack in open roasting pan. Insert meat thermometer so bulb is centered in thickest part, but not resting in fat. Do not add water. Do not cover. Roast in 350 degree oven to desired degree of doneness. Allow 18 to 20 minutes for rare; 20 to 22 minutes for medium. About 15 minutes before serving, remove roast when meat thermometer registers 135 degrees for rare; 155 degrees for medium. Tent with aluminum foil; allow roast to "stand" 15 minutes in warm place before carving. Roast should continue to rise about 5 degrees in temperature to 140 degrees for rare, 160 degrees for medium. While roast is standing, remove rack from roasting pan; skim fat. Add onions to pan drippings; place roasting pan over medium high heat on top of range. Cook onions, stirring occasionally, until tender, about 3 minutes. Add wine; bring to boil; cook about 3 minutes or until thickened. Combine cornstarch and remaining, salt and pepper. Gradually, add beef broth to cornstarch mixture, stirring constantly; add to wine mixture in roasting pan. Continue cooking. Stir in mushrooms and parsley. Pour into serving container. Carve rib eye roast into thin slices. Serve with Red Wine and Mushroom Sauce.
Recipe courtesy of ichef.com.
Photo courtesy of Texas Beef Council.