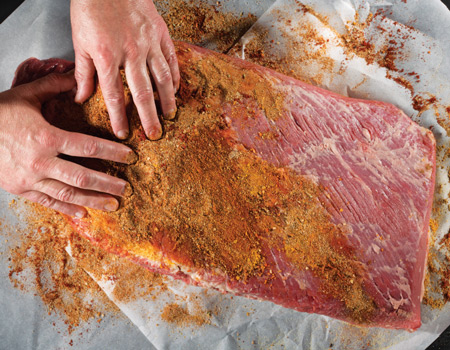 Beautiful weather gives me the energy to experiment with new recipes and try new things.
Those sunny skies make me want to share a good old fashioned Kansas City brisket with friends and neighbors. This Championship Brisket is the perfect canvas on which to bring out my artistic flair.
When I buy brisket I intend to personalize it with something like a traditional Kansas City dry rub (like this delicious Kansas City Rub recipe) or maybe even something spicy like this recipe for Barbeque Rub that includes cayenne pepper and chili powder.
While the Kansas City Rub features dry mustard and ground cumin, there's a special rub I really adore called Rubbed the Right Way. It calls for brown sugar (delish!), basil, oregano and lots of other great seasonings. It's a fantastic combo of flavors that really brings out the natural flavor of the brisket.
Ready to try your own? Check out more brisket rub inspiration here and enjoy!