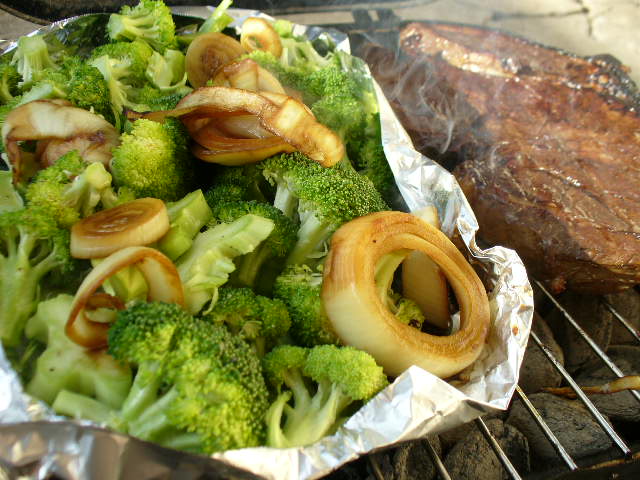 Tired of that baked potato? Super Sister-in-Law Chef Sandy gives us some ideas for what to eat with that tasty steak you're planning. And – beware – it's healthy for you. Mwuahahahahahaha!
(That was an evil laugh.) Here's what she says . . .
What are you going to eat alongside of that gorgeous steak tonight?  Might I suggest broccoli, cooked right beside it on the grill?  Broccoli, as we all have heard, is one of nature's super foods.  It has a ton of vitamin C, as well as other antioxidants and nutrients which are fabulous for you.
The problem with broccoli for many people is the bitter taste and/or texture.  By cooking it with a dry cooking method, the broccoli will release some of its natural sugars, covering up some of that bitterness, and the texture is less soggy than broccoli prepared in water. Here's a super way to cook it that will change both of those characteristics, and make it easy to prepare, right next to your steak.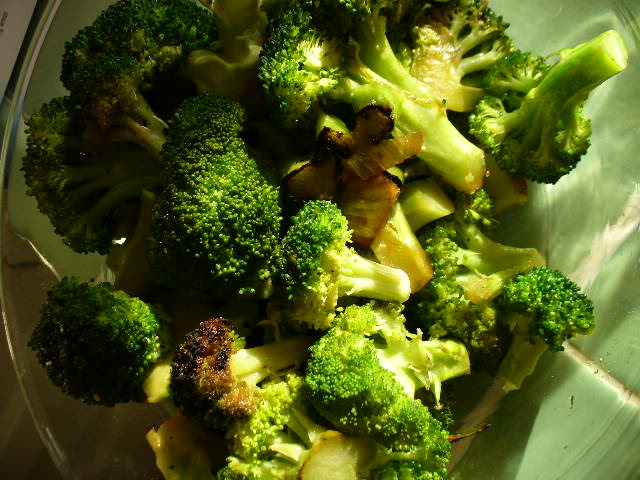 Broccoli on the Grill
1 pound fresh broccoli, washed
2 Tbsp Olive Oil
2 tsp of kosher salt, if desired
1 tsp of black pepper
1 tsp red pepper flakes, if desired
1 clove of garlic, if desired
½ onion, cut into ¼" rings, if desired
Wash broccoli well, then cut into 1 inch florets.  Cut the stem pieces into ¼" rounds, so that they cook in the same time as the florets. 
Using a heavy chef's knife, smash the clove of garlic to remove the peel, cut off the hard ends and then smash it with kosher salt.  The salt acts as an abrasive and will allow you to smash the garlic into a paste.  Place this garlic paste, peppers and olive oil into a large mixing bowl and combine with the olive oil.  Toss the prepared broccoli and onion rings into the mixing bowl, mixing to combine it well and make sure that all of the broccoli has some of the flavorful oil on it.
This broccoli will only take a few minutes to prepare on a hot grill, so if you want to serve it piping hot with the steak, you will need to start the steak first.  The advantage to this dish is that it tastes great even at room temperature, so feel free to prepare it first if you want to enjoy it that way.
To cook the broccoli, place a large piece of heavy duty foil (or a specially designed grill implement) on the grates of the grill.  Toss on the broccoli, in a single layer, and allow to cook, covered for a few minutes or until the broccoli begins to brown.  You will have some pieces which get very brown, others not so much.  I think this improves the appeal of this dish. Using tongs, flip the broccoli over and cook until desired doneness is reached.  This is a dish which will need to be tended to fairly closely — it would burn if left more than a few minutes because of the delicate size of the pieces.  Remove to serving platter, and serve with a squeeze of lemon, if desired.