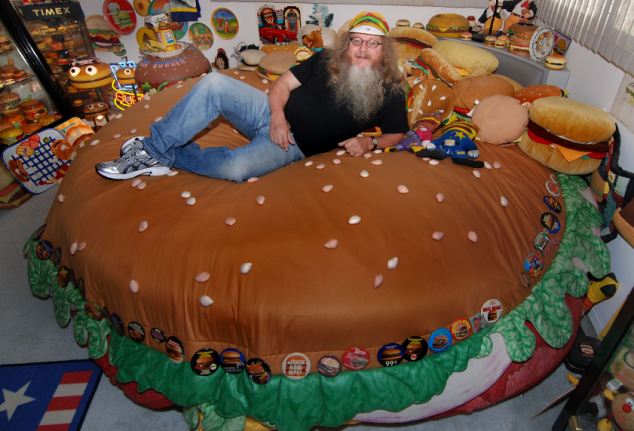 "Hamburger Harry" (seen above), from Daytona Beach, FL, loves burgers SO MUCH that he has been collecting burgerbilia for 23 years.
And he ain't stopping now.
His collection includes a custom-made cheeseburger bed, a motorcycle shaped like a burger (the Hamburger Harley) and enough patty-themed knickknacks to fill an entire house.
Dude is reminded of his obsession every second of every day. Could YOU do it? Live in hamburger house, ride a hamburger bike and sleep on a burger bed?
I love burgers just as much as the next guy (well, maybe not THIS guy) and I'm pretty sure this would put me on overload. Wanna see more pictures of burgerbilia? Click here.
Love the passion, though, Hamburger Harry! Burger on!
Photo courtesy of Caters News Agency via DailyMail.co.uk.