When it's shorts weather, we all want to spend as much time outside as possible. There's something so freeing about being outdoors. So, we lounge on our patios, pool decks or balconies. And eventually, we get hungry.
So that we can stay outside, we fire up our grills and take the eating adventures outdoors. There's nothing more enjoyable to me than a gorgeous day and a meal out in nature.
And people seem to share that sentiment, so it's no wonder that May is National Hamburger Month – because this time of year when it's time to cook something outside, we want burgers on the grill. Plain and simple. So why not celebrate it?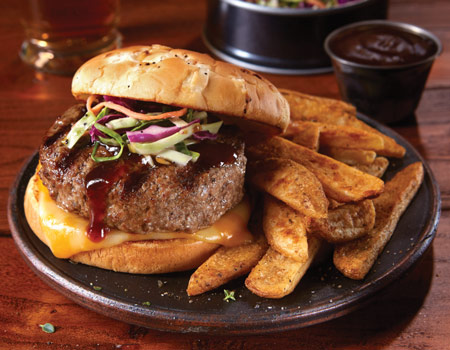 Now, it's always time for steaks at my house, but sometimes you just want a really good STEAK BURGER. This month, we celebrate those times you crave a good 'ol steakburger.
Whatever you call it – steak burger, burger, hamburger, steakburger – it deserves to be done up right. And when you choose to grill it, there are a few rules to live by to do the burger justice.
Buy quality burgers. It matters.
Use coal or wood for cooking.
Sprinkle both sides of patty with kosher salt and coarse ground white pepper.
Sear burgers 1 minute on each side over direct heat to seal in juices.
Move to indirect heat.
Grill for approximately 6 minutes per side, checking to ensure patties are not burning.
Do not press burgers with spatula.
Add burger toppings as desired.
Enjoy!
Experiment with times and check the bottom of the burger periodically to make sure you are getting the doneness you crave. Keep watch so you don't overcook them. Hockey puck burgers are the worst! But this method should help you avoid that and get the most out of your National Hamburger Month celebration!