The words send shivers down my spine.
Someone is stealing meat? It can't be true.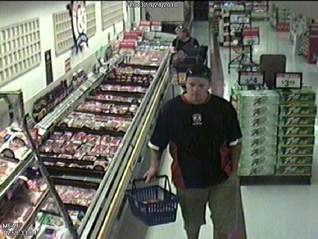 But this photo is of an alleged thief who has a laser focus:  steak.
Consider this from police officer Lisa Klein…
"He filled up a hand basket and just walked out," Klein said. "I guess he just likes steak."
You bet he likes steak. Enough to risk his freedom and dignity.
Shame.
Folks, there is a simple way to indulge your steak urges. Just pay for it! It's the American way.
Let's hope this guy's shame is a cautionary tale. Just bum a few bucks off your friends if you need a steak and you're a little short.
Case closed.
For all the details on this horrific crime, check out the full story here – if you dare.
Photo courtesy of NewsLeader.com.