In the spirit of Cinco de Mayo this weekend (hey, that's the 5th of May) I give you this scrumptious Cinco de Mayo recipe: Beef Steak and Black Bean Soft Tacos.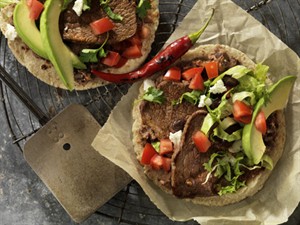 Oh, all the flavors of this beautiful meal will dance on your tongue! So yummy!
It calls for bottom round steaks but I'd use skirt steak myself. You use what makes you happy!
Get creative and add all the toppings YOU like:  salsa, lettuce — whatever!
Enjoy your spicy weekend!
Photo courtesy of Beefitswhatsfordinner.com.