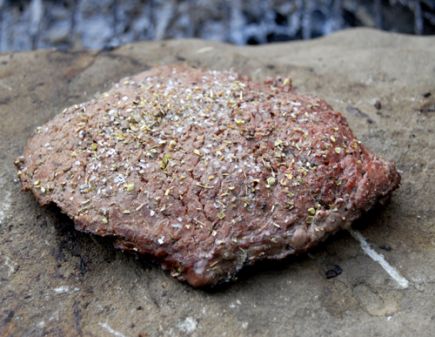 A while back I showed you this kitchen gadget where you cook your steak on a rock.
I thought that was pretty out there. But this recipe takes the concept one step further and actually puts you out in the wilderness – cooking your steak on a rock.
Now if you're the adventurous type, this might be right up your alley.
IF you try this, be sure to heed all warnings about wet rocks and such. Click here to read – thoroughly – the instructions for this great beef adventure.
Note:  I understand this works best if you like your steaks rare. If you're a medium well/well done kinda guy this might not be for you. You'll be waiting for centuries for your steak to cook on that rock.
As for me, I'm content to hear your stories about how YOU enjoyed your rocky steaks. Do tell!
Photo courtesy of Mike Schiller at GetOutzine.com.