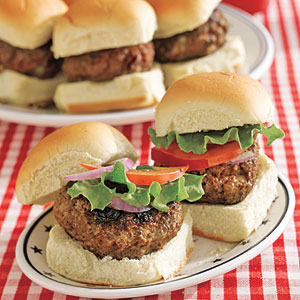 It's tried and true. How can you go wrong with sliders on a sunny, holiday weekend?
Answer:  You can't.
Try this recipe for scrumptious goodness on a bun – which includes the ever-popular bacon and some tasty seasonings.
Your crew will be happy and so will you!
Bon appetit, my friends! And have a safe and flavorful holiday weekend!
Let's all remember the reason for the holiday as well. We have much to be thankful for.
Photo courtesy of MyRecipes.com.