So, this Father's Day I am having a family reunion of sorts and we are grillin' steaks in honor of the fathers in the family.
What dad wouldn't want to be celebrated with juicy beef?
Well, I don't know any. At least I'm not related to any.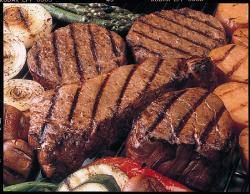 So here's a great big HAPPY FATHER'S DAY to all you dads this weekend. We count on you for a lot — you deserve to be celebrated!
Photo courtesy of www.KansasCitySteaks.com.