Sandy mentioned previously a delicious side that would complement a Chateaubriand or, really, any beef entree.
I love an alternative to my usual potato sides. This recipe for Dauphinoise Potatoes is not only tasty, but truly gorgeous. Here is what it looks like when Sandy prepares it . . .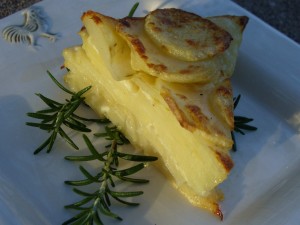 Yeah. Spectacular.
You can brush up on your gratin family of potatoes history here. In the meantime, here are Sandy's step-by-step instructions so we can be JUST LIKE HER . . .
Recipe for Dauphinoise Potatoes:

1 pint heavy cream or half and half
garlic, herbs or flavoring as desired
kosher salt and pepper
6 medium baking potatoes, peeled
2 Tablespoons Butter

Preheat oven to 400 degrees.

Bring cream or half and half to a simmer in a medium saucepan, adding whole peeled and smashed garlic cloves (2 for subtle garlic flavor), herbs such as thyme or rosemary sprigs to flavor the liquid.  When the cream develops small bubbles on the rim of the saucepan remove from heat and set aside until potatoes are prepared. Add 1 teaspoon kosher salt and several grinds fresh pepper.  Taste the mixture for seasoning.  It should be slightly saltier than you would eat straight (potatoes absorb lots of salt).

With 1 tablespoon of softened butter, grease the potato baking pan(s) generously.  Wash, peel and thinly slice potatoes, preferably using a mandolin-type slicer with a sharp blade.  1/8 in slices are ideal and easy to do with a slicer.  Slice potatoes directly into baking dish.  I used a loaf pan but any pan which will allow the potaoes to cook in a deep layer (ie lots of head room) will work.  Individual tart pans can be used to bake and serve directly.  Toss the raw potatoes with about 1 1/2 teaspoons of kosher salt and some pepper.  Strain the liquid or just remove herbs and garlic.  Add to baking dish, you will probably not need all of the liquid, depending on the size of potatoes, the baking dish and how much reduction of liquid took place.  Potatoes should be nearly covered, but not swimming in cream.

Use plastic wrap to push the potatoes down into the liquid.  Place plastic wrap directly on the surface of the potatoes.  Cover pan and plastic wrap with foil and weight the potaoes down with a slighly smaller pan filled with hot water.  Place the baking dish in the oven for 40 minutes.  Carefully remove the water filled pan, the foil and the plastic wrap and continue to bake until the potaoes are tender and the liquid is nearly absorbed.  Some thickened liquid will remain.

If you are serving immediately, place the pan under the broiler and cook until potatoes are golden.

If you are preparing this dish ahead, cover and let cool in refrigerator.  When totally cool, potatoes may be turned out of baking dish onto cutting board and cut with a sharp heavy knife into serving sizes.  Place on well buttered baking pan.  To reheat, place in 450 degree oven until browned and hot throughout.  Serve immediately.