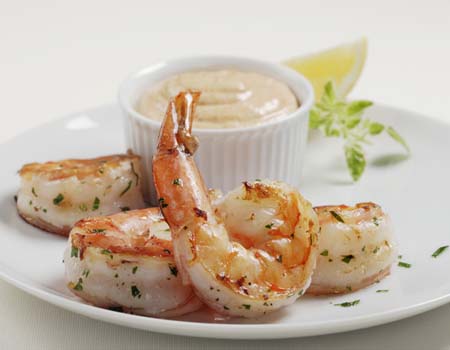 Seafood in the spring is always a fun, fresh alternative that's light and delicious.
If you're a shrimp lover you'll adore this Shrimp Scampi recipe that's oh, so flavorful.
I just love the garlicky scampi and the citrus garnish. Makes it so refreshing!
Ingredients:
18 Jumbo Shrimp
1/4 cup butter
4 tbsp. garlic, minced
6 green onions, thinly sliced
1/2 cup dry white wine
2 tbsp. lemon juice, fresh
8 sprigs parsley, finely chopped
salt and pepper to taste
Directions: Rinse Jumbo Shrimp and set aside. Heat butter in large skillet over medium heat. Cook garlic 1-2 minutes or until softened but not browned. Add shrimp, green onions, wine and lemon juice. Cook until shrimp are pink and firm – 1 to 2 minutes on each side. Add chopped parsley, salt and pepper. Garnish with lemon slices and parsley sprigs.
Servings: 6
Source: The Kansas City Steak Company