I was in Target this week and THEY HAVE HOLIDAY STUFF OUT ALREADY.
Christmas. Hanukkah. You name it. It's out.
And I'm still getting over the fact that it's not summer anymore. I'm slow.
So in honor of the tradition of starting the holiday season WAY too early, I give you these . . .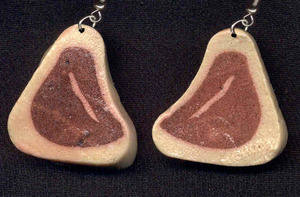 They're earrings! And they're so versatile.
Truly the perfect gift this holiday season.
Your favorite aunt can wear these BBQ T-bone danglers to work, to the movies, to a Bar Mitzvah, anywhere!
But get 'em now before they're all snapped up!
I know I'll be wearing them to my husband's office holiday party. Wait, I want him to keep his job . . .
. . .  on second thought, never mind.
Photo courtesy of storesense.com.