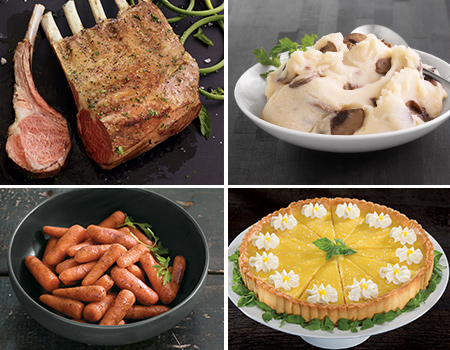 This March is one of those months where we are lucky enough to have TWO holidays – St. Patrick's Day and Easter! That's something to celebrate in itself.
Now that we've got St. Patrick's Day covered, it's time to focus on what we're going to do for Easter.
And by "do" I mean what meal are we going to serve? (See how everything comes back to food for me?)
Easter dinner is meant to be a very special, elegant meal. So how about considering a rack of lamb? One thing I love about this meal is the beauty of the presentation. It's absolutely gorgeous!
When guests sit down to this meal, they know they are in for something incredible.
We've got to plan out all the dishes that will go with the lamb so that we can get maximum enjoyment out of this beautiful dinner.
So what are some rack of lamb accompaniments to go along with this extraordinary Easter meal?
I love to serve delicious green beans with lamb. They're light and complement the lamb perfectly without taking away from the main course. Mushrooms are a nice side to add to this lamb to bring out the earthy flavor of the meat. So a natural fit for this meal is a side of gourmet mashed potatoes with Porcini mushrooms.
Okay, my mouth is watering. But I'm not done…
Wine pairing is a wonderful way to enhance the flavor of your rack of lamb. Try a Chateau Rocher Corbin Montagne Saint-Emilion – a Merlot-based red. It's designed to bring out the lamb's natural flavor.
Or, serve a Meyer Family Cellars Syrah, Yorkville Highlands. This wine is delicious and earthy. Perfect.
There are so many ways to make your rack of lamb Easter dinner special. Explore them all and have an extraordinary Easter – starting with your meal!