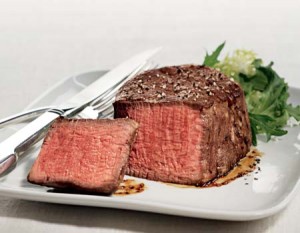 Like filet mignon?
You're in good company. That's what they served the Emmy winners at the Governors Ball after Sunday's awards ceremony.
Schmancy.
It's nice to know we all share some ideas about what makes a great celebratory meal. But you don't have to be a celebrity to enjoy a great steak.
I like to have one when something really great happens in my life. It's just a way of treating myself and stopping and saying, "Yay! Life is good right now!"
I'd imagine that's what was happening for the cast of Modern Family and John Krasinski.
So kudos to you all – you deserve that juicy steak!
Click here to read the entire article about this scrumptious steak dinner from People.com. Just don't forget to wipe the drool from your mouth when you're done. It's unsightly.