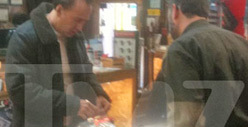 When you have Hollywood paychecks at your disposal, apparently you can buy whatever you want.
So, naturally, actor Nicolas Cage has chosen to spend his cash on a mammoth ivory-handled steak knife.
$2,000 cash to be exact.
The man loves his steak.
And this knife will make cutting it a joy!
Read on here for all the details about Nic's purchase. After reading, you just might have something to add to your holiday wish list!
Photo courtesy of TMZ.com.