Are lots of people descending on your house next week? Need a meal you can prepare ahead of time this holiday?
Try this yummy roast we just prepared at my parents' house. It's tender and hearty and who doesn't love a good roast?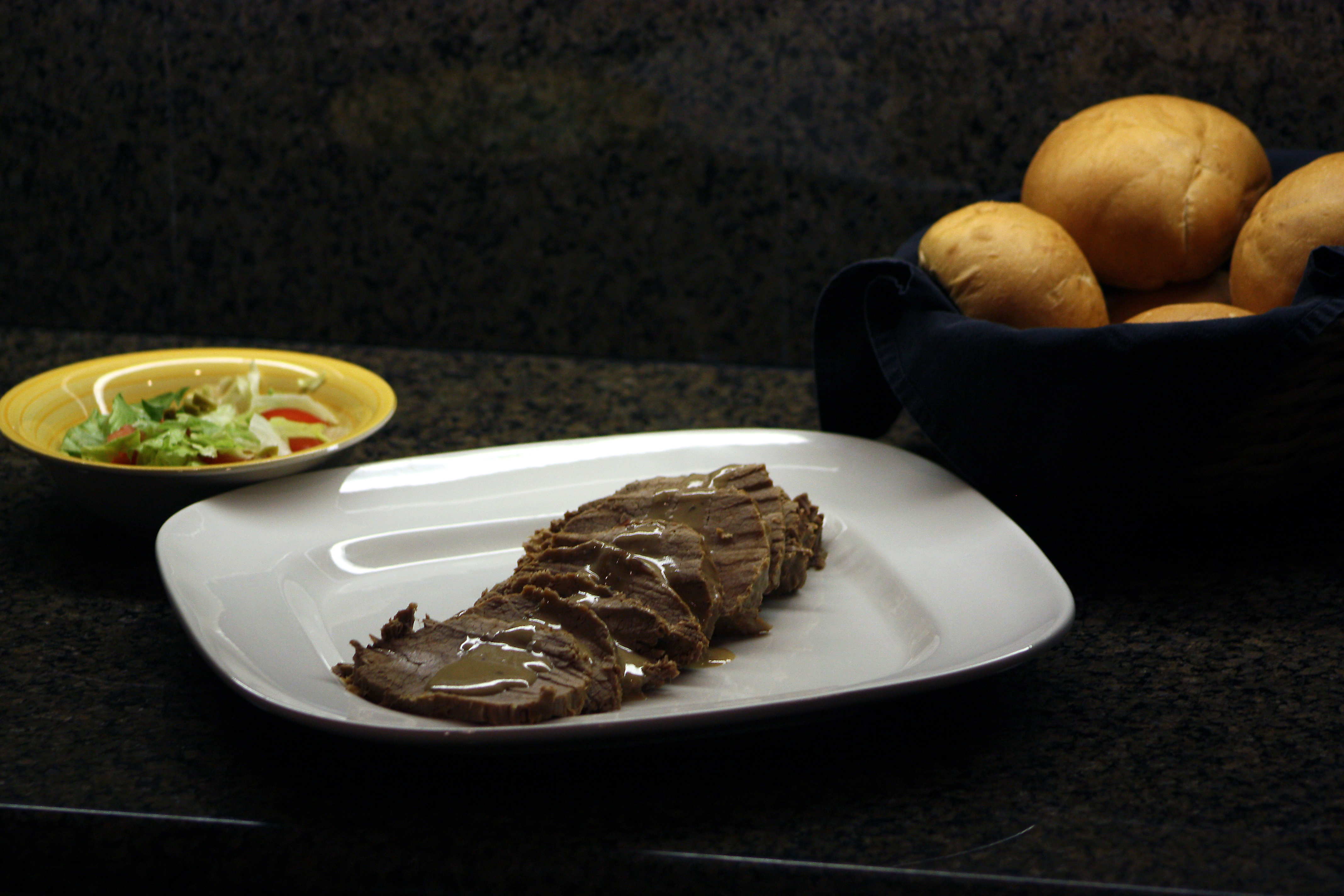 This one is a great Southern Living recipe. They always get it right.
The secret to this roast's tenderness is the double layer of aluminum foil. So don't skip that part!
Enjoy!
Beginner's Roast

Prep: 5 min.; Bake: 3 hrs., 30 min. The secret to this juicy, fall-apart tender roast is in the baking. Before placing the lid on top of the Dutch oven, cover it with a double layer of aluminum foil. An eye-of-round roast has far less fat than a chuck roast, but when tightly covered and slowly baked with moist heat, is every bit as delicious. This easy recipe is also a terrific make-ahead dish. After baking, cool roast completely, and remove from Dutch oven, reserving gravy. Cut roast into 1/4-inch-thick slices, and arrange in a 13- x 9-inch baking dish. Pour gravy over sliced roast; cover and refrigerate up to 3 days. Reheat in a 325° oven for 30 minutes or until thoroughly heated.

Yield
Makes 6 to 8 servings

Ingredients
1 (3- to 4-pound) eye-of-round roast
1 large sweet onion, sliced
1 (10 3/4-ounce) can cream of mushroom soup
1/2 cup water
1 (1.12-ounce) package brown gravy mix
1 garlic clove, minced

Preparation
Place roast in a lightly greased Dutch oven, and top with sliced onion. Stir together soup and next 3 ingredients; pour over roast.

Bake, tightly covered, at 325° for 3 hours and 30 minutes or until tender.

Note: For testing purposes only, we used Knorr Classic Brown Gravy Mix.

–Karrie Fayard, Mobile, Alabama, Southern Living, JANUARY 2006
Recipe courtesy of Southern Living.