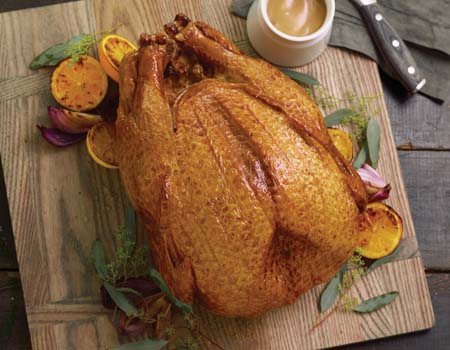 The centerpiece of a great fall harvest party? The food!
Dishes that warm the soul and the palate are what celebrating the fall harvest is all about!
Here are some of my favorite foodie ideas to usher in the season:
1. Start with tantalizing appetizers. How about some applewood bacon and cheddar sliders? Or offer tasty basil pesto gorgonzola kisses, three cheese arancini, herb citrus scallops and lobster flatbread.
2. Whole Smoked Turkey. This is the main event. Delicious and showstoppingly beautiful, the aroma alone will have your guests drooling.
3. Sides with a twist. Try mashed potatoes with porcini mushrooms, carrots with maple glaze or lobster mac and cheese.
4. Finish up strong. Desserts that hail the season are winners like hand-dipped chocolate macaroons, spiced apple streusel tartlets or cognac pumpkin cake!
With a menu like this, no one will forget THIS fall harvest, for sure!
Photo courtesy of KansasCitySteaks.com.