When one more turkey sandwich sounds like a death sentence, it's time to mix it up!
Renowned chef Guy Fieri gives us his recipe for Tequila Turkey Fettucine. Save this for after that Christmas turkey, too! Your family will thank you.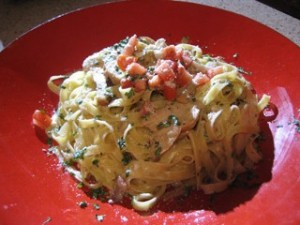 Tequila Turkey Fettucine
Recipe courtesy Guy Fieri
Yield: 1 serving
Prep Time: 20 minutes
Cook Time: 10 minutes
Ingredients:
1 ounce olive oil
1/4 red onion, cut into strips
1/2 tablespoon minced jalapeno
1 tablespoon minced garlic
5 ounces turkey breast, cooked, sliced
1 ounce tequila
4 ounces heavy cream
2 tablespoons freshly squeezed lemon juice
1 tablespoon chopped cilantro leaves
9 ounces fettuccini pasta, cooked
2 tablespoons grated Parmesan
2 lime wedges, for garnish
2 sprigs cilantro, for garnish
2 tablespoons diced Roma tomato, for garnish
1 teaspoon freshly ground black pepper
Instructions:
1. In saute pan with high heat, add olive oil, onions, jalapeno and saute until translucent.
2. Add garlic and continue to saute for 2 minutes.
3. Add turkey, lightly mix ingredients, careful not to break turkey up too much.
4. Deglaze pan with tequila, pouring around the edge of the saute pan.
5. Add cream, lemon juice and cilantro.
6. Toss together, then add pasta, and toss ingredients while adding Parmesan cheese.
Nest pasta on plate, pour sauce over pasta. Lay sprigs of cilantro over top, sprinkle tomatoes on top, and crack pepper around the rim of the plate.
Ease of preparation: intermediate
Recipe and photo courtesy of abcnews.com.