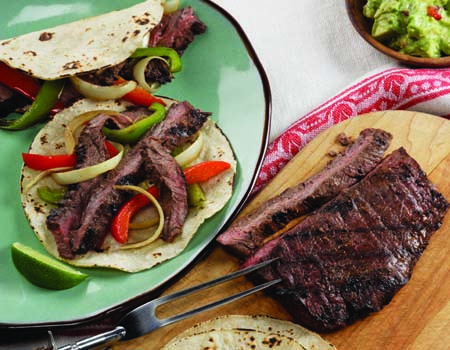 It's the weekend!
Time for some great food and relaxing moments. Here's my guide for making your weekend great — with food, of course!
Saturday Morning
Start off with some steak and eggs. A tried and true steak lover's breakfast. You'll need your energy for the weekend! Might I suggest a Top Sirloin?
Saturday Afternoon
Lunch consists of tender, flavorful steak fajitas (see above). This is a meal meant to be shared so invite some neighbors and get grilling!
Saturday Night
Dinner is filet mignon and twice baked potatoes. It's Saturday night – that's Steak Night!
Sunday Brunch
Breakfast tacos with ground beef and sausage get the day started off in the right direction. A brunch with Mimosas and a variety of taco fixings just makes sense.
Sunday Dinner
This is the time to slow down and make family memories. A beautiful beef roast is in order. Perhaps a Chateaubriand, a Prime Rib Roast or even a Brisket. Take your time and savor this one — but leave some leftovers for Monday's lunch at the office! 🙂
Now that you've got your menu it's time to get planning the perfect steak enthusiast's weekend. I know I'm ready!
Photo courtesy of KansasCitySteaks.com.