Valentine's Day secret? If your sweetie is anything like mine, a steak dinner will go a long way toward saying, "I love you". You know that old saying about the way to a man's heart, right? Well, it works for women also.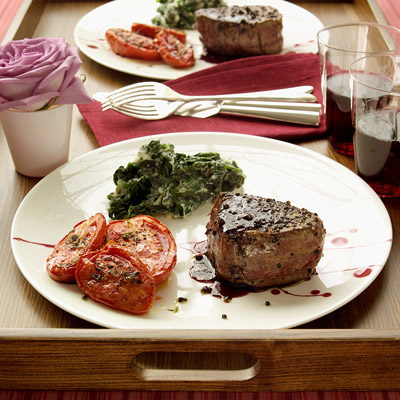 Trust me.
I subscribe to the "Say It With Food" theory. Create a beautiful meal and someone will feel loved. It's cause and effect. And the effect is just right for Valentine's Day.
Check out this pepper-crusted filet mignon recipe and try it out on Feb. 14th. There will be no question how you feel. It's even a Martha Stewart recipe – so it has to be good.
You still have time to get the most tender, beautiful filets delivered to you by V-Day from here. Believe me, THIS is good stuff.
Oh, and tell me about your successful steak venture. I like to live through others sometimes.
Bon appetit!
Photo courtesy of Delish.com.