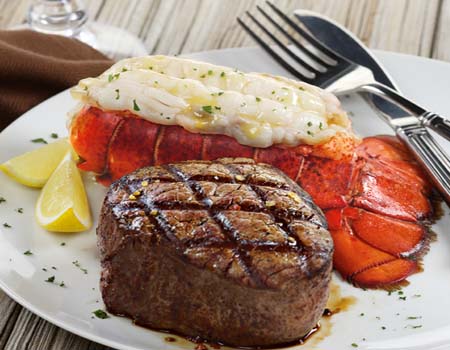 Remember how we discussed being visual people? Okay, ME being a visual person.
Well, that applies to food presentation as well.
When I eat, I like it to be a feast for ALL the senses – not just my taste buds. I think everyone can appreciate the extra effort.
The same meal slapped on a paper plate without rhyme or reason tastes differently when presented on a beautiful dish and arranged in an eye-pleasing manner.
Don't you agree?
It might be the exact same food, but we will perceive the well-plated version to TASTE better.
We don't just taste with our taste buds. We taste with our eyes as well.
And a filet mignon definitely deserves to be plated well.
So how does one plate a filet successfully?
Choose a plate that is simple and elegant – like your steaks. A basic, white, circular plate will do nicely. That way, the colors and arrangement of the food can be easily seen.
Consider color and texture. Pair your filet mignon with greens, reds and yellows for beautiful effect.
Think of symmetry, design and balance. A heaping pile on the left side of the plate is not visually pleasing. Space it out – think of it like a painting.
Minimalist is best. Leave space on the plate and don't pile it on.
Go up. Finer restaurants stack up rather than space outward. It gives the plate visual depth and provides white space on the plate. Beautiful!
Do it sparingly, but do garnish with spices, and a dab of sauce for color and embellishment and flavor.
And, remember, if it's beautiful to you, it's probably beautiful to whomever sits down at your table. So take the time to plate your filet mignon well.
Your guests/family/friends will appreciate you – and the filet – that much more!