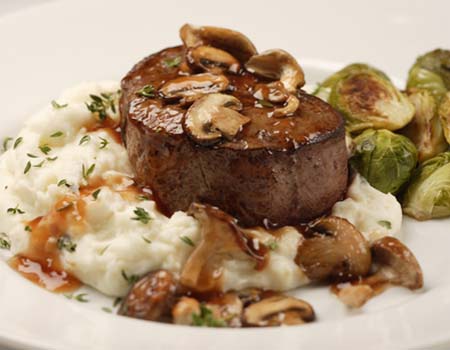 February is a month to be romantic. We've got Valentine's Day coming up and it's still cold outside so it's pretty conducive to snuggling!
But – man or woman – nothing says romance like a romantic dinner.
One of my all-time favorite romantic meal ideas is a couple of filet mignons, whipped potatoes, side salad and a delicious red wine.
That's a lighter option. If you want something hearty that'll warm you both up, mouth-watering Beef Wellington is an excellent choice. And… as a bonus, this is a heat and serve gourmet meal. Just pop 'em in the oven and serve on some lovely china! The flaky pastry crust makes this dish so unique!
Now, if you REALLY want to impress your sweetie, Chateaubriand is the way to go. A gorgeous roast simmering in the oven is one of my favorite aromas. It creates an ambience that's so important for setting a romantic stage.
Plus, it's tender and juicy, and, well, it's French. It just seems more romantic if it's French.
So, what will you feed your sweetheart? These romantic meal ideas are in themselves a gesture of love. And that speaks volumes!