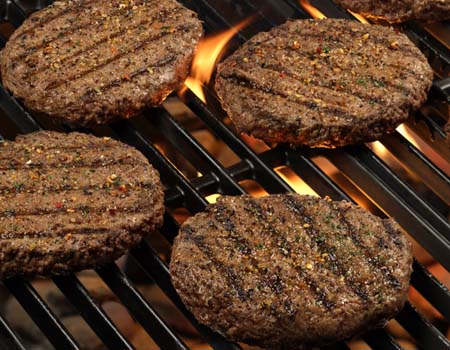 Hot dogs, kabobs, burgers, baked beans — even s'mores! These are all campfire food favorites.
But have you ever thought maybe you'd like to step outside of the box on your next campfire excursion?
Here are some great campfire recipes that'll help you do just that!
Heavenly Fish – this one uses the foil method and works perfectly with trout or any fish you choose.
Campers Stew – ground beef is used in this camping recipe, along with veggies and potatoes. Yum!
Cowboy Casserole – hamburger, beans and bacon over biscuits conjures up images of the Old West!
Fajita Marinade – put your flank steak or skirt steak in this and your campers will scream, "Yahoo!"
What do all these camping recipes have in common? They're all incredibly simple and easy to cook over hot coals. Have fun!
Photo courtesy of KansasCitySteaks.com.