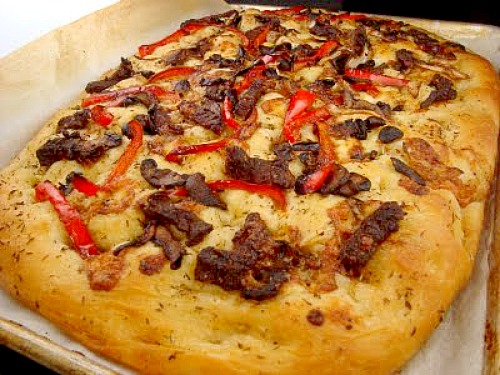 Amazing homemade bread – with steak on it!? Where do I sign up for that, you say?
Well, my friends, What's Cookin' Chicago has just the recipe for us:  Blue Cheese, Pepper, Steak & Mushroom Focaccia.
My nostrils are flaring right now. I need this smell in my life.
This bread is so flavorful and hearty. Perfect for this time of year.
And . . . it's a meal in itself!
Go get your baking hat on and try this one. You'll make new friends and gain admirers.
Plus, you'll get to enjoy some really good bread and steak. Winner!
Check out all the instructions you need to make amazing Steak Focaccia here.
And save some for me!
Photo courtesy of Joelens.blogspot.com.