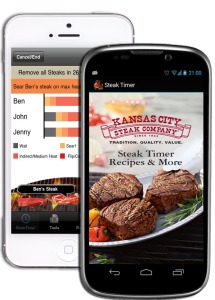 Fall grilling, while very similar to summer grilling, is a bit different. There ARE some adjustments we've got to make.
Here are some tips for making your fall grilling truly spectacular:
1. Tank tops and shorts? Probably not. Don't forget to bundle up for this job. It's getting cold out there!
2. Mix in seasonal flavors in your grilling. Fall spices, pumpkins and autumn vegetables like squash say, "Hello, fall!"
3. Use this handy dandy steak timer app. It'll guide you along the way step-by-step. And it's free!
4. The grilling app also includes recipes, too. Find something that gets you in an autumny mood.
Hope you have a blast grilling up fall favorites this season!
Photo courtesy of KansasCitySteaks.com.