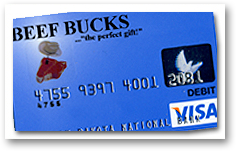 I LOVE "Wheel of Fortune" and, well, I LOVE beef.
So imagine my absolute glee that next week on "Wheel of Fortune" one of the gift tags when contestants spin that big wheel will be $1,000 in Beef Bucks!
What are Beef Bucks, you may ask?
They're checks or VISA gift cards that may be redeemed at lots of great places for purchases of – you guessed it – beef! Beef Bucks is a non-profit organization set up to promote the beef industry. So cool!
You can read more about Beef Bucks here and read about the "Wheel of Fortune" appearance here.
What fun!
I'm all for this Beef Bucks idea. Spread the joy, I say!
So watch "Wheel" next week and cheer for those contestants to win lots of Beef Bucks!
Photo courtesy of BeefBucks.org.