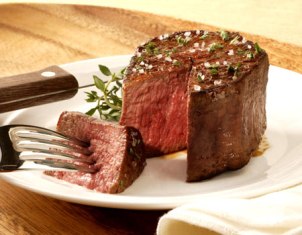 A glamorous camping experience?
Sure, why not!
Glamping can be fun! You just have to bring the correct gear to do it up right.
Whether or not you "rough it" in an air-conditioned tent is up to you, but the meals? Well, those should be top-notch.
A cooler filled with caviar and crackers makes for a great appetizer. So do these jumbo shrimp – just grill 'em over the coals!
And while you're eating your caviar and shrimp (and sipping on something bubbly) you can watch some beautiful, thick-cut filet mignon as it sizzles over the fire. Nothing like the smell of a juicy, tender steak grilling to create some serious anticipation.
Your filet will go well with some sweet potatoes in a butter rum glaze that you wrap in foil and heat over those same coals. Roughing it? Sure!
Then, as a grand finale, whip out some molten chocolate cakes from the cooler and heat them gently over the coals so the chocolate oozes just the right amount. Delicious!
Ahhhhh, "back to nature" may have a whole new meaning after this glamping excursion. But I bet it'll be the camping trip you remember most fondly for the rest of your lives!!!
Photo courtesy of KansasCitySteaks.com.