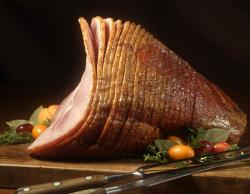 Making a ham this Thanksgiving or holiday season? Here's an amazing glaze to add some holiday zest to your table!
Your guests will be asking you for this recipe — so have it handy!
Pineapple Glaze
2 Cups Pineapple Juice
2 tsp. Maraschino Cherry Juice
2 tsp. Soy Sauce
2 Cloves
Reduce the pineapple juice by half, add the soy and maraschino cherry juice and reduce to a syrupy consistency. Glaze ham once before cooking, once during cooking and again when removed from the oven.