This one is filed under "Eerie Entrees" over at MyRecipes.com. But, really, there's nothing scary about this scrumptious grilled steak on a homemade pizza — except for the fact that if you cook this for your Halloween dinner and little ghosts and goblins come to your door and smell it, they will never leave your house.
Now THAT'S scary.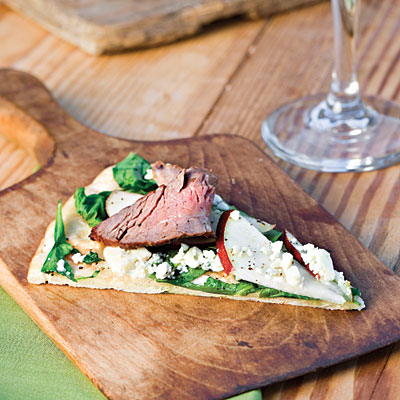 Grilled Pizza With Steak, Pear and Arugula
Prep: 10 min., Grill: 30 min., Stand: 10 min.
Yield: Makes 4 servings
Ingredients
Vegetable cooking spray
1/2  pound  flank steak
Salt and pepper
1  tablespoon  olive oil
1 1/2  teaspoons  white balsamic vinegar
1  (12-inch) prebaked pizza crust
1  red Bartlett pear, peeled and sliced
1 1/2  cups  fresh arugula, divided
1/4  cup  crumbled Gorgonzola cheese
Freshly cracked pepper
Preparation
1. Coat cold cooking grate of grill with cooking spray, and place on grill. Preheat grill to 350° (medium heat).
2. Season flank steak with salt and pepper.
3. Grill steak, covered with grill lid, at 350° (medium heat) 8 to 10 minutes on each side or to desired degree of doneness. Cover and let stand 10 minutes.
4. Meanwhile, whisk together oil and vinegar in a small bowl.
5. Cut steak diagonally across grain into thin strips. Cut strips into bite-size pieces (about 1 cup).
6. Place pizza crust directly on hot cooking grate. Brush top of crust with oil mixture; layer with pear slices, 1 cup arugula, cheese, and beef strips.
7. Grill, covered with grill lid, 4 minutes. Rotate pizza one-quarter turn; grill, covered with grill lid, 5 to 6 more minutes or until thoroughly heated. Remove pizza from grill, and sprinkle with remaining 1/2 cup arugula and freshly cracked pepper.
Note: For testing purposes only, we used 1/2 (16-oz.) package Mama Mary's Thin & Crispy Pizza Crusts.
Oven-Baked Pizza With Steak, Pear, and Arugula: Assemble pizza as directed, and bake according to package directions for pizza crust.
Southern Living, OCTOBER 2007
Photo and recipe courtesy of MyRecipes.com.