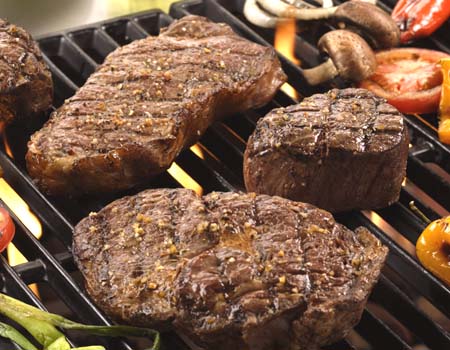 Let's dispel some common misconceptions about our favorite pastime, shall we?
Okay, you've got your gourmet steaks ready, the grill is lit – should you leave the cover open or shut?
That depends on how quickly you want them finished. Thicker steaks should probably be grilled with the lid shut – especially USDA prime steaks. And if you are concerned about charred food you may want to leave the lid open so you can put out flare-ups quickly. They can happen with the lid closed and you won't even know it.
So how often should the grill be cleaned?
The answer is simple. Before every new grilling session. Leftover particles may contain bacteria – and we don't want any of that! Be sure to let the grill heat up nice and hot before putting your meat on to let the heat burn off anything you didn't get with the brush.
Should you coat your grill with oil to avoid sticking?
That depends on your personal preference. But many of us don't want the fat content associated with oils so layering with foil is a great alternative or use a grill basket. Baskets are fun to use, too!
Want more answers to your "burning" questions about grilling? Check out our friends over BBQMyths.com's advice. You'll be glad you did!
Photo courtesy of KansasCitySteaks.com.