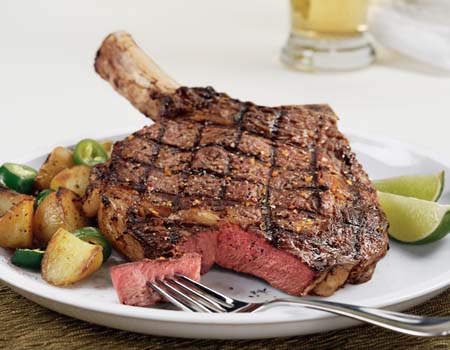 This summer is blockbuster movie time! There are some great flicks coming out this summer. And here's a few movie inspired menus to help you enjoy the experience even more!
HERCULES
The man. The myth. The legend. With all those muscles you just KNOW he feasted on lots of steak! I'm thinking the boneless ribeye above would do the trick.
DAWN OF THE PLANET OF THE APES
These hairy guys like to eat. So I'd make 'em some flat iron steaks with herbed butter with the grilled bananas recipe below for dessert. They like bananas, right? Delicious!
Grilled Bananas
Ingredients:
4 bananas peeled
1/4 cup brown sugar
1/3 cup rum
1 tbsp. lemon juice
4 tbsp. butter or margarine
4 pieces of foil
Directions: Soften butter and coat foil. Mix brown sugar, rum and lemon juice in a small dish. Coat each banana with rum mixture and wrap tightly in foil. Place on grill for 15 – 20 minutes. Serve on top of ice cream or angel food cake.Serves 4
Source: KC Steak Company
22 JUMP STREET
These fictional guys are in college now and, well, college guys love burgers! Try the Hawaiian Steak Burgers recipe below to get you in the mood!
Hawaiian Steak Burgers
Ingredients:
1 cup pineapple juice
1 cup orange juice
1 cup soy sauce
1 cup brown sugar
1 tsp. honey mustard
1/4 cup sesame seeds
1 small red onion, minced
3 cloves garlic, minced
6 (4 oz.) Classic Steakburgers
Directions: Combine pineapple juice, orange juice, soy sauce, brown sugar, honey mustard, sesame seeds, minced red onion, and minced garlic. Whisk ingredients and pour into food storage with lid. Marinate Classic Steakburgers in container, refrigerate for 4 hours.Prep time for making marinade: 15 minutes

Type of Meat/Cut: Classic Steakburgers
Source: KC Steak Company
Photo courtesy of KansasCitySteaks.com.