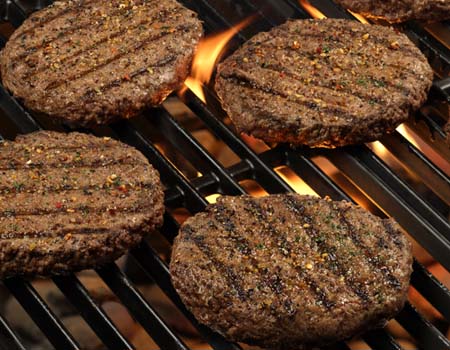 Spring is here! Spring is here!
The official start to spring makes me insanely happy. It signals sunnier days and, truthfully, better moods in my house.
With warm weather naturally comes lots of grill time and that means BURGERS!!!
I prefer steakburgers – made from ground beef of steaks – because they just taste better. Plain and simple.
And you know I adore my steaks, so it only makes sense that my burgers follow suit.
I'm always on the lookout for ways to spice up my burgers and the beginning of a new season seems like a great time to try out a new burger recipe. Like this Tropical Burger made with Wagyu Kobe beef:
Tropical Burger
Ingredients:
4 Wagyu Kobe Beef Steakburgers
salt and pepper
4 buns, toasted
4 fontina cheese slices
4 pineapple slices
1/2 cup prepared mango chutney
1 red onion, sliced
4 lettuce leaves
Directions: Season burgers with salt and pepper, and then grill on a hot grill. While the burgers are grilling, also place the slices of pineapple, and red onion on the grill, and grill them as well, to cook them slightly. When the burgers are almost done, place 1 slice of fontina cheese on each burger, and melt slightly. Remove burgers from heat and let them rest for five minutes. To build, place one slice of grilled red onion, on the bottom half of the bun, place burger on top with a slice of pineapple, and lettuce leaf on top, and the mango chutney on the top half of the bun.
Servings: 4
Wanna try more steakburger recipes? Check out these equally delicious recipes and tell me your favorites!