This month we're celebrating National Grilling Month by – what else? – grilling recipes!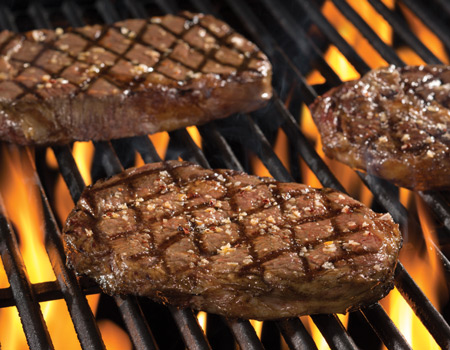 You could just wing it, but why? Try some great grilling recipes and make sure your efforts come out just right!
Ribeye is my personal favorite steak cut. Follow this amazing recipe for perfect grilled ribeye steak every time:
Grilled Ribeye Steak
Ingredients:
4 Ribeye Steaks
Marinade:
1/2 cup vegetable oil
2 tbs. lemon juice
1 1/2 tsp. Worcestershire Sauce
1 tsp. onion salt
1/2 tsp. seasoned salt
1/4 tsp. coarsely ground black pepper
1/8 tsp. garlic salt
Directions: Place Ribeye Steaks in shallow baking dish. Combine marinade ingredients and pour over meat, thoroughly coating both sides. Marinate 4-6 hours in refrigerator, turning once or twice. Place steaks on grill and sear both sides, then raise grill to about 5 inches from coals. Cook 15 minutes, turning once, or to desired doneness.Click here for our Steak Grilling Chart.
Servings: 4
Source: KC Steak Company
Want more fantabulous grilling inspiration? Take a look at these recipes and you're sure to find something you'll love.
Have fun celebrating National Grilling Month! I KNOW I will!
Photo courtesy of KansasCitySteaks.com.