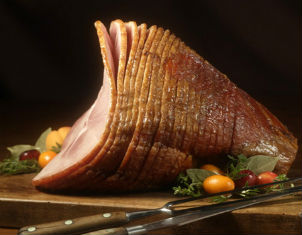 No, not Hammer Time – HAM TIME!
Although Hammer Time is fun, too.
These autumn days always have me craving a lovely smoked ham. So filling and fulfilling.
And one of my favorite things to do with a ham is dress it up with a special glaze. Certainly you can enjoy a tried and true, never-miss pineapple ham glaze, but I REALLY like this maple bourbon glaze.
It's got a robust kick that makes it really feel like fall to me. You can get this yummy ham glaze recipe here. And try some of your own creations, too.
What are some of your favorite fall cooking traditions?
Photo courtesy of KansasCitySteaks.com.