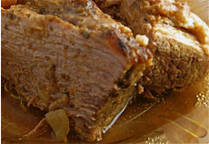 Tonight Hanukkah begins.
It's a gorgeous celebration with wonderful traditions.
For me, the food is what I like hearing about the most.
And this beef brisket is a traditional recipe that is sure to please. You can do it in the crock pot so it's hassle free! And it creates its own gravy. Genius!
Click here for the full recipe and enjoy these days with your loved ones – no matter what you celebrate!
Photo courtesy of Linda Larsen via BusyCooks.About.com.