Tonight starts Hanukkah. And one fantastic aspect of this special time is the food.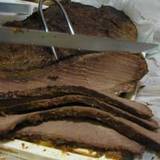 Here is an amazing recipe for a Kosher Beef Brisket. Oh, the slow simmering goodness of a brisket cooking, just filling the house is a memory in the making.
And, hey, you don't have to be Jewish to share this meal. Just eat – and celebrate!
Click here for all the details on this yummy meal.
Photo courtesy of Giora Simoni via About. com.