Happy New Year, everyone!!!
And to welcome 2010, it only seems appropriate to cook some fantabulous steaks, right?
If you're going to do it, why not just go for it and spring for the most tender cut — the amazing filet mignon?
Here, Derrick Riches gives us his incredible recipe for herb-crusted filets. Enjoy!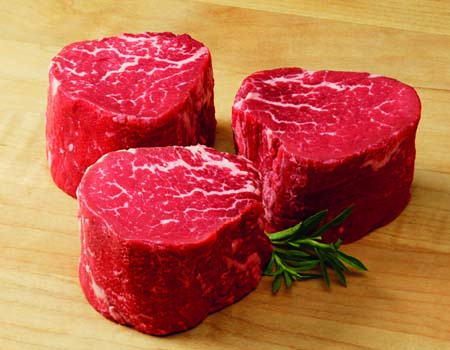 Herb-Crusted Filet Mignon
What can be better than filet mignon? It's delicious and tender. This recipe calls for dried herbs though you can substitute with fresh herbs instead. If you are going to do so, double the amount that the recipe requires.
Prep Time: 15 minutes
Cook Time: 10 minutes
Ingredients:
4 filet mignon, about 1 1/2 inches thick
4 tablespoons olive oil
2 cloves garlic, minced
1 teaspoon rosemary
1 teaspoon thyme
1 teaspoon marjoram
1/4 teaspoon salt
1/4 teaspoon black pepper
Preparation:
Heat olive oil and garlic in a covered microwave safe bowl for 50-60 seconds. Remove and allow to cool. Add herbs and stir. Place filet mignon into a shallow glass dish. Pour herb mixture over and turn steaks to coat. Cover and let marinate for 1-4 hours in refrigerator. Preheat grill for high heat. Remove steaks, remove excess oil, and season with salt and pepper. Place on grill and cook for 5-6 minutes per side. Remove from heat and serve.
Recipe courtesy of About.com.
Photo courtesy of KansasCitySteaks.com.