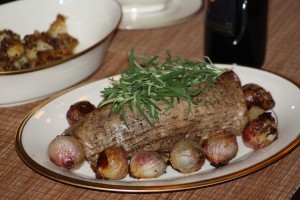 Oh, how I love this time of year!
Halloween is over and it's time to start thinking HOLIDAY MEALS!
I look forward to this with great anticipation all year long.
When I think of my holiday meals, I first think about the centerpiece of the meal.
My personal go-to centerpieces are a gorgeous Chateaubriand or a prime rib roast (oh the beef!) and a spiral-sliced ham. My family loves them all.
At holiday time especially, presentation is so very important. And these main course centerpieces make quite an impression.
And, of course, they TASTE delicious! You just have to decide which taste to go with.
That's the fun part! Good thing is, holiday time brings lots of visitors and lots of mealtimes. You really can serve them all over the next couple of months!