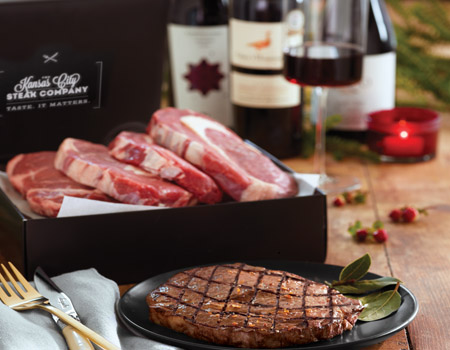 Fall is officially here!
That brings cold weather and . . . (cue dramatic music) the holidays!
And with the holidays come food preparation and gift giving!
Now, these things are supposed to be fun and wonderful, but waiting until the last minute can make them frustrating and downright stressful. I know. I've done it way too often and I hate myself for it. So why not plan NOW for the inevitable?
One thing I do get right is that I always, always stock up on steaks to have on hand for the holidays. There are tons of guests in my future and guests need to eat. Steaks are a fantastic go-to meal.
And speaking of steaks, steak gifts are ALWAYS appreciated at holiday time! Receiving a beautifully boxed gift of steaks totally makes someone's day.
And you know they won't return it.
Food as gifts always is a hit in my experience. It's the perfect balance of giving a "thing" AND an "experience" all rolled into one. The experience of good food can't be beat.
Besides steaks, some other gourmet gifts that are sure to be winners are holiday desserts like Buche de Noel and cheesecake, hickory-smoked hams and turkeys, and heat and serve meals like Beef Wellington.
Any gift that feeds my family and saves me time AND tastes delicious is a home run!
But the time to plan is now. Before time is short – and your temper is, too.
Make the holidays easy on yourself and give yourself the gift of time to enjoy them. Once they're here, they go by so quickly. Plan now and you'll really be able to live in the moment and just enjoy!
Click here for more gourmet gift ideas to make the holidays fun and easy on yourself! Happy planning and shopping!