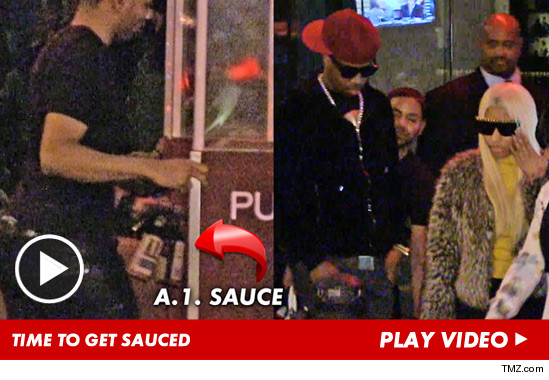 Musical sensation – and new "American Idol" judge Nicki Minaj visited a steakhouse in Hollywood last night and faux pasd all over the place.
Or did she? You tell me.
The Nickster sent someone out to fetch her some A.1. Steaksauce for her tasty steak.
In a nice restaurant. In Hollywood. California.
Is that tacky? Or is it just having her steak the way she wants it?
I, personally, do not care at all how anyone eats their steak. You enjoy that bad boy the way you like, I say.
But, chefs are notoriously offended by the addition of outside steak sauces.
So . . .  did she fall down in the etiquette department or do you subscribe to the "live and let live" notion?
Nicki, just know that if you had enjoyed that steak at home no one would be the wiser.
Just sayin.
Photo courtesy of TMZ.com.